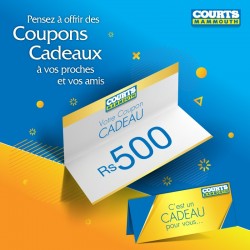 Reference: 60020002
You will contacted to collect your voucher
TERMS AND CONDITIONS
Pick up point for the voucher is only at  Courts Mammouth Bell Village.

The voucher is valid for 6 months

The voucher is a non-refundable one and cannot be exchanged against cash in whole or in part.

This voucher is valid for a single transaction.

We are not responsible if a gift voucher is lost, stolen, damaged or destroyed and no replacement will be made in these circumstances.
An additional fee of Rs. 200 will be charged for home/office deliveries if the voucher is less than Rs. 2,500.
C&C and CD Available