Morphy Richards 222067/EE Brushed Equip 2 Slice Toaster
Reference: 11041031 mail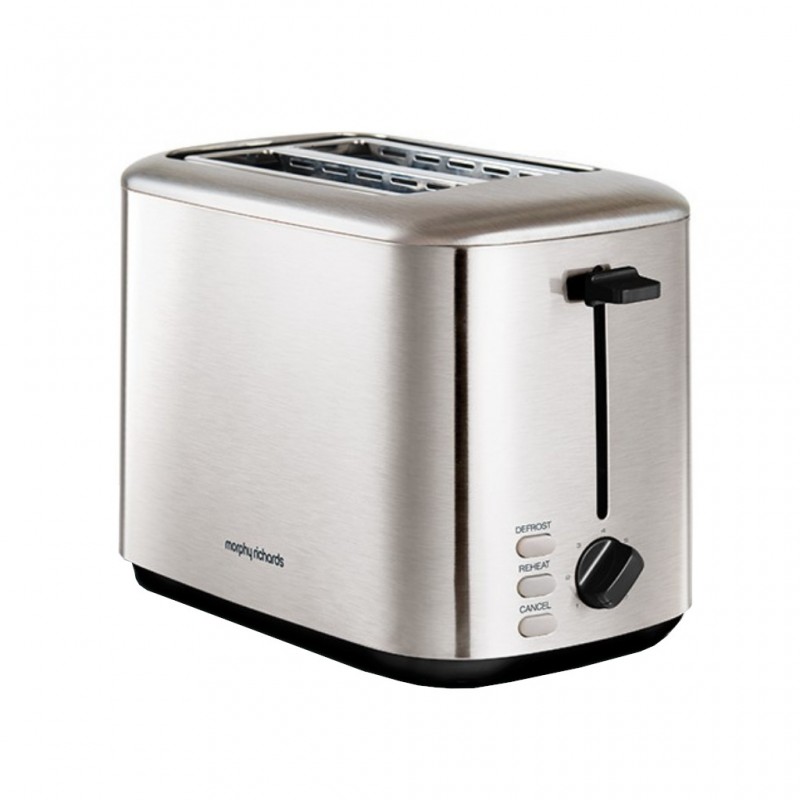  
Product Features
Power: 800 W
2 Slice Toaster
7 Variable Browning Control
Defrost & Reheat Function
Removable Crumb Tray
2 Years Warranty
verified_user Supashield warranty
keyboard_arrow_right keyboard_arrow_down Description
Cancel, Reheat and Defrost Settings: Easily toast from frozen, reheat forgotten toast and cancel the program if needed, with multiple functionality.
Variable Width Slots: The Equip toaster can evenly toast a range of bread thicknesses with ease, thanks to the variable width slots.
Variable Browning Control: Adapt the settings according to your taste, ensuring perfect browning every time.
Removable Crumb Tray: Removable trays collect crumbs from everyday use, and allow you to efficiently dispose of them without making a mess.
Cord Tidy: The base cleverly conceals any excess wire, so that your kitchen side is always mess-free.
keyboard_arrow_right keyboard_arrow_down Store Availability
Bel Air :
On Display + Last 1 in stock
Bell Village :
On Display + Last 4 in stock
Goodlands :
On Display + Last 2 in stock
Lallmatie :
On Display + Last 2 in stock
Mahebourg :
On Display + Last 4 in stock
Port Louis :
On Display + Last 1 in stock
Quatre Bornes :
On Display + Last 1 in stock
Riche Terre :
On Display + Last 2 in stock
Rose Belle :
On Display + Last 2 in stock
Rose Hill :
On Display + Last 2 in stock
Vacoas :
On Display + Last 3 in stock
Compare with similar products:
This item

Morphy Richards 222067/EE...

Regular price

Rs 2,199

-Rs 200

Price

Rs 1,999

Regular price

Rs 2,199

-Rs 300

Price

Rs 1,899

Regular price

Rs 2,199

-Rs 300

Price

Rs 1,899

Regular price

Rs 1,799

-Rs 100

Price

Rs 1,699

Regular price

Rs 1,899

-Rs 200

Price

Rs 1,699

Power (W):
800
800
850
800
700
1000
Material Type:
Stainless Steel
Stainless Steel
Plastic
Stainless Steel
--
--
Warranty:
2 years
2 years
2 years
2 years
1 year
1 year
Defrost Option:
Yes
Yes
Yes
Yes
--
No
Adjustable Temperature:
Yes
Yes
--
Yes
No
Yes
No of Slices:
2
2
2
2
2
1
Colour:
Silver
Red
Black
Black
Black
White