Cam Kit Bagno Changing Station
Reference: 40110146 mail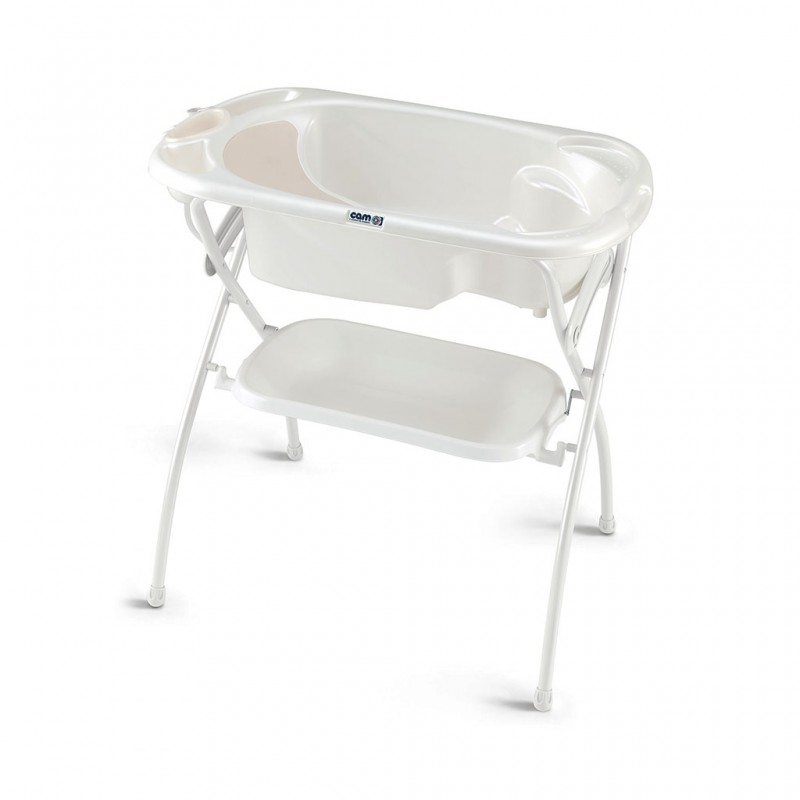  
Product Features
Age Group: Newborn - 1 Year 
Soap and Sponge Compartments
Perfect For The Smallest Bathrooms
Water Drain Plug 
Compact Folding 
Weight: 3.6 kg
Dimension: W97xD65xH94 cm
keyboard_arrow_right keyboard_arrow_down Description
Other Features: 
Ideal for the smallest bathroom, it can be placed on bathroom fittings.
The bath is intended for children from birth to 12 months.
From birth to six months, the child lies in the integrated anatomical lounger while bathing, from 6 to 12 months it can sit on the anatomical seat with armrests.
Both the deck chair and the seat have a non-slip finish.
The tub includes storage spaces for soap and a sponge, and of course there is a drain valve.
The metal stand can be compactly folded.
Shower accessory. 
Support feet.
Unfolded: W97xD65x94 cm.
Folded: W86xD14xH109 cm.
Safety:
Side, front and rear stability to prevent the baby from tiping over while using the product.
Completely non-toxic (EN 71) and phthalate-free materials (directive 2005/84/CE).
Compare with similar products:
This item

Cam Kit Bagno Changing Station

Width (cm):
97
97
77.5
77.5
77.5
88
Depth (cm):
65
65
69
69
69
48.5
Height (cm):
94
94
101
110
110
22
Weight (Kg):
3.6
3.6
8.2
8.2
8.2
1.1
Target Gender:
Unisex
Unisex
Unisex
Unisex
Unisex
Unisex
Age from:
New born
New born
New born
New born
New born
New born
Age to:
1 year
1 year
1 year
1 year
1 year
1 year
Colour:
White
Beige
White
Grey
Beige
Grey