George Foreman 23400 Compact 2 Portion Grill
Reference: 11040494 mail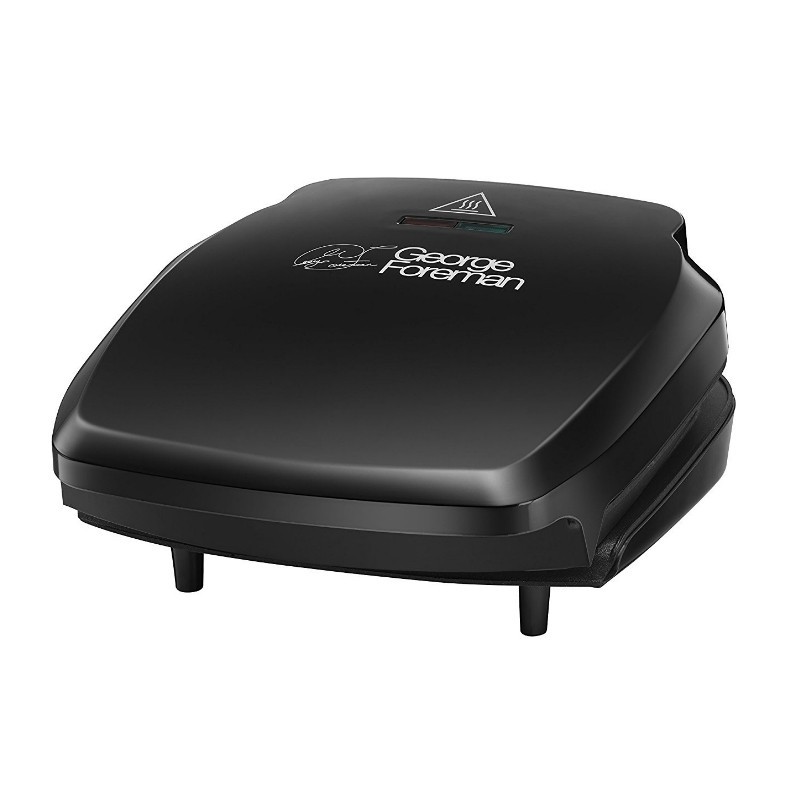  
Product Features
Power: 700 W
Cooks Up To 2 Portions
Non-stick Coated Plates
Adjustable Grill Height
Stores Vertically
1 Year Warranty
keyboard_arrow_right keyboard_arrow_down Description
Fat Reduction: Fat reduction is at the core of the George Foreman brand and independent tests have shown that the George Foreman Grill removes up to 42 per cent of fat* from food. The patented angled grill channels fat and grease away from foods, and contact grilling from both sides applies gentle pressure onto food encouraging additional fat to be removed.
Floating Hinge: The 23400 Compact Grill has a cleverly designed floating hinge which accommodates extra thick cuts – so you can be generous with your slicing! With a floating hinge the grill top can move more freely, great for toasting sandwiches, paninis or more generous portions.
Speed: George Foreman Grills cook from the top and bottom plates at the same time making cooking up to 3 times faster and more energy efficient than conventional methods.
Non-stick grill plates: There is no need to add butter or oil to the George Foreman grill plates as they are non-stick, allowing you to be that little bit more healthy. The non-stick coating also makes it easier for the fat to glide away from the food and makes them easier to clean. There is no need to scrub for hours, simply wipe clean with kitchen roll or use one of the specially designed George Foreman Sponges.
Compare with similar products:
This item

George Foreman 23400...

Regular price

Rs 1,299

-Rs 100

Price

Rs 1,199

Regular price

Rs 1,399

-Rs 200

Price

Rs 1,199

Regular price

Rs 1,399

-Rs 100

Price

Rs 1,299

Power (W):
700
700
750
750
700
700
Warranty:
1 year
1 year
1 year
1 year
2 years
1 year
Non Stick:
Yes
Yes
Yes
--
Yes
Yes
Adjustable Temperature:
No
No
--
Yes
--
Yes
Colour:
Black
Black
Silver
White
Black
White