Mgae Lol Surprise Diy Glitter Factory 556299
Reference: 40110325 mail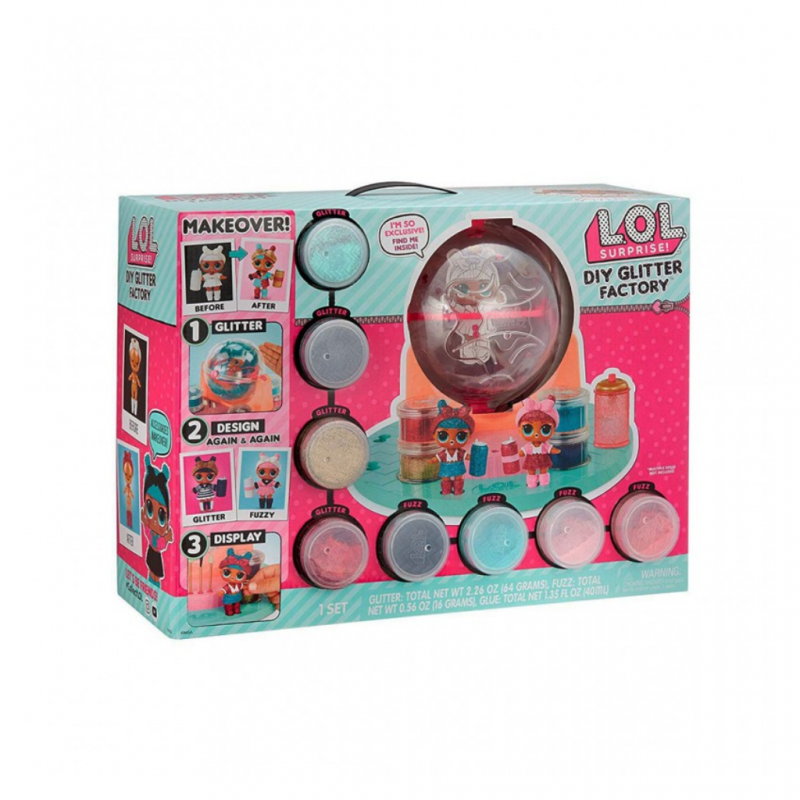  
Product Features
Age Group: 5-8 Years
On the tray around the ball, there are footprints
Drop off your L.O.L. to admire your creations
keyboard_arrow_right keyboard_arrow_down Description
Give your L.O.L. dolls, your animals and their accessories a new look with the DIY Glitter Factory.
Another color or more glitter? Choose ! You can always start over.
How it works ? Choose a doll and an outfit to dress up, put glue on the garment / accessory to which you want to give a new color, choose a color or glitter and put it all in the bowl, place the doll on the support in the ball and close, roll the ball and watch the color / glitter settle on the glue and give your LOL doll a whole new look.
Incudes: 1 exclusive doll, 1 mannequin, 4 jars of glitter, 4 dye jars, 2 jars of glue, 5 face masks, 4 brushes, 2 outfits, 1 bottle, 1 hairstyle, 1 pair boots, 1 headband, 1 Glitter Factory. Please note: not suitable for children under 3 years old. Recommended age: 6 years old. No batteries required.
Compare with similar products:
This item

Mgae Lol Surprise Diy...

Target Gender:
Girl
Unisex
Unisex
Unisex
Boy
Unisex
Age from:
5 years
3 years
3 years
3 years
3 years
3 years
Age to:
8 years
5 years
--
--
6 years
--