Monster Clear Talk Clarity 102
Reference: 20060909 mail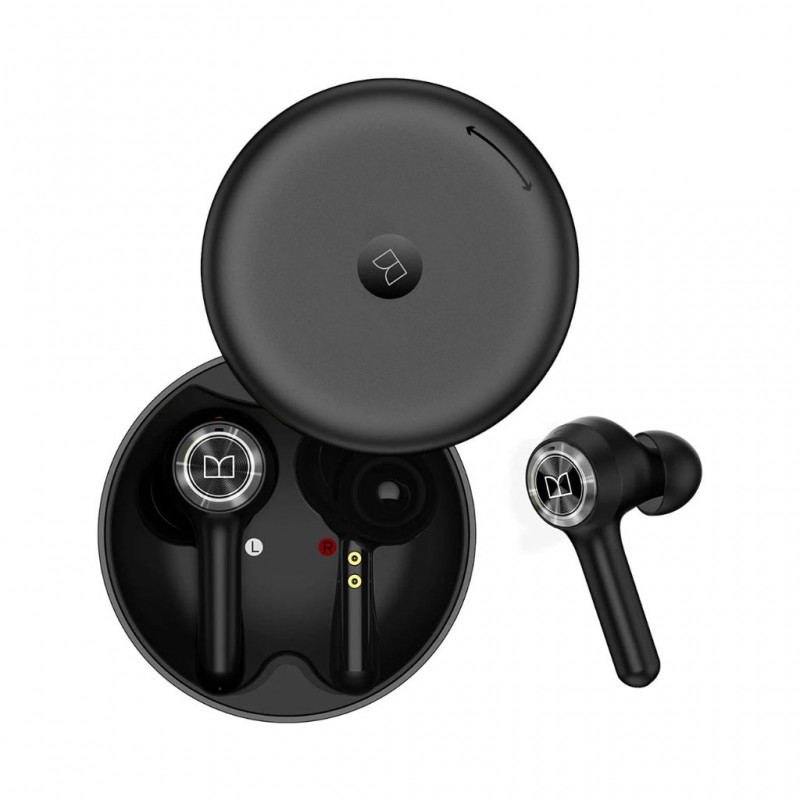  
Product Features
Bluetooth 5.0
Noise Reduction and Echo Cancellation
Clear Call
Voice Control
IPX5 Water Resistant
Battery Life: 30 hours
1 Year Warranty
keyboard_arrow_right keyboard_arrow_down Description
Pure Monster Sound: The Monster Clarity 102 AirLinks wireless headphones were designed and developed by Noel Lee and the Monster team in the USA. The unique digital audio processor pumps out deep bass and enhances the midrange and treble clarity of Bluetooth headphones. The professional driver gives your music a wider soundstage with exceptional precision and crystal clarity throughout the frequency range.
Clear Talk: Two built-in microphones for clear voice quality. Once the phone is connected, double-click MFB to activate the voice assistant.
Single & Couple: Enjoy stereo sound or use just one earbud for preference or driving safety with the Single & Couple feature. Different from the previous version or other brands, Monster True wireless in-ear monitors offer HiFi stereo sound for both music and phone calls.
Comfort & Snug Fit: Ergonomic design provides a comfortable and secure fit. Multiple size ear tips (S, M, L) provide different comfort choices to fit all types of ears.
IPX5 Water Resistant: IPX5 certification makes Monster wireless headphones completely splash, rain, and perspiration resistant. This makes them excellent headphones for sports, running or training. 
keyboard_arrow_right keyboard_arrow_down Store Availability
Bagatelle :
On Display + Last 2 in stock
Curepipe :
On Display + Last 2 in stock
Flacq :
On Display + Last 1 in stock
Goodlands :
On Display + Last 1 in stock
Grand Baie :
On Display + Last 2 in stock
Phoenix :
On Display + Last 1 in stock
Port Louis :
On Display + Last 2 in stock
Rose Belle :
On Display + Last 2 in stock
Rose Hill :
On Display + Last 1 in stock
Compare with similar products:
This item

Monster Clear Talk Clarity 102

Regular price

Rs 7,790

-Rs 300

Price

Rs 7,490

Regular price

Rs 6,990

-Rs 500

Price

Rs 6,490

Regular price

Rs 12,990

-Rs 500

Price

Rs 12,490

Regular price

Rs 8,990

-Rs 500

Price

Rs 8,490

Bluetooth:
Yes
Yes
Yes
Yes
Yes
Yes
Warranty:
1 year
1 year
--
1 year
1 year
1 year
Battery Life ( up to, Hours):
30
24
20
30
--
125
Colour:
Black
Black
Black
Black
White
Green