Morphy Richards Icon Royal Sapphire 600W 2YW Mixer Grinder - 3 Jars 5YW on Motor
Reference: 11040532 mail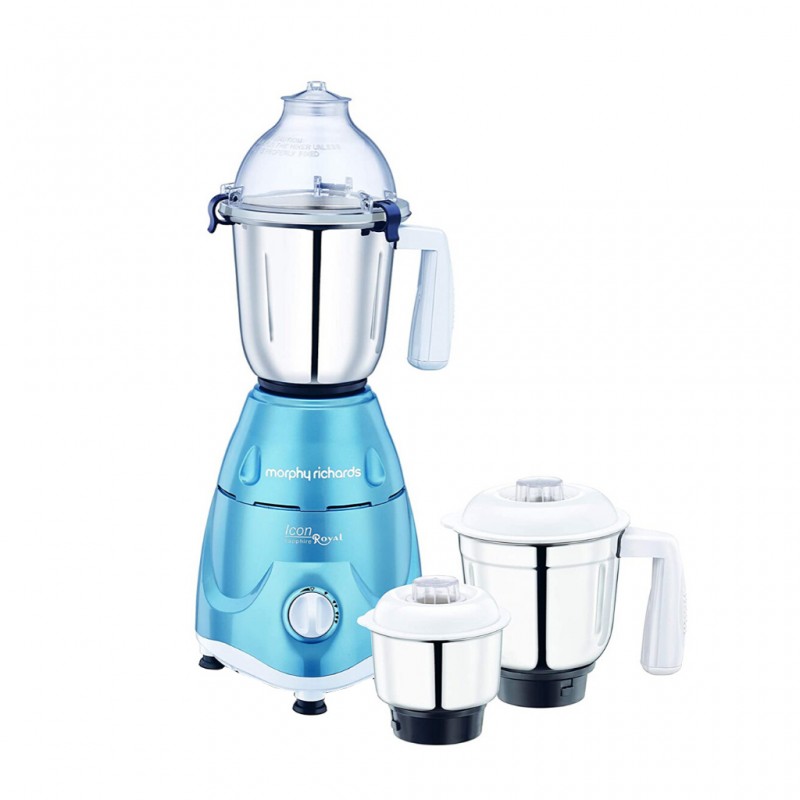  
Product Features
Power: 600 W
3 Speed Settings 
3 Stainless Steel Jars: (1.5/1/0.4L)
Stainless Steel Blades 
Overload Protection
2 Years Warranty & 5 Years On Motor
verified_user Supashield warranty
keyboard_arrow_right keyboard_arrow_down Description
Has 3 dome-shaped polycarbonate jar covers with lid locks for added safety and extra durability.
5 razor sharp stainless steel blades perform multiple functions including mincing and chopping.
An overload protection feature prevents the motor from burning out or running either when the jar is overloaded or used continuously for a long time at one go.
Incher or pulse feature that momentarily runs the blades gently for pushing the bulk of dry ingredients upwards and for freeing material stuck on the jar wall.
3-speed control knob that comes with 90 degrees range of movement.
Cord Winding Facility for Convenience.
Hands free operation on the Liquidizing Jar.
30 minutes- Rated for flawless continuous operations.
keyboard_arrow_right keyboard_arrow_down Store Availability
Bambous :
On Display + Last 2 in stock
Bel Air :
On Display + Last 2 in stock
Chemin Grenier :
On Display + Last 3 in stock
Goodlands :
On Display + Last 1 in stock
Grand Baie :
On Display + Last 4 in stock
Lallmatie :
On Display + Last 3 in stock
Mahebourg :
On Display + Last 2 in stock
Port Louis :
On Display + Last 4 in stock
Quatre Bornes :
On Display + Last 4 in stock
Rose Belle :
On Display + Last 2 in stock
Triolet :
On Display + Last 4 in stock
Vacoas :
On Display + Last 2 in stock
Trianon Central Warehouse :
Compare with similar products:
This item

Morphy Richards Icon Royal...

Regular price

Rs 6,299

-Rs 800

Price

Rs 5,499

Regular price

Rs 4,199

-Rs 400

Price

Rs 3,799

Regular price

Rs 6,199

-Rs 300

Price

Rs 5,899

Regular price

Rs 4,599

-Rs 1,400

Price

Rs 3,199

Regular price

Rs 4,499

-Rs 900

Price

Rs 3,599

Power (W):
600
500
750
750
500
500
Material Type:
Stainless Steel
ABS Hard Body
--
--
--
--
Warranty:
2 years
2 years
2 years
1 year
2 years
2 years
Capacity (L):
1.5
1.5
1.8
1.5
1.2
1.2
No of Speed setting:
3
3
3
3
3
3
Blade Material:
Stainless Steel
--
Stainless Steel
--
--
Stainless Steel
Colour:
Blue
Black
Black
White
White
Purple