Panasonic MJ-SJ01WTN Juicer
Reference: 11040780 mail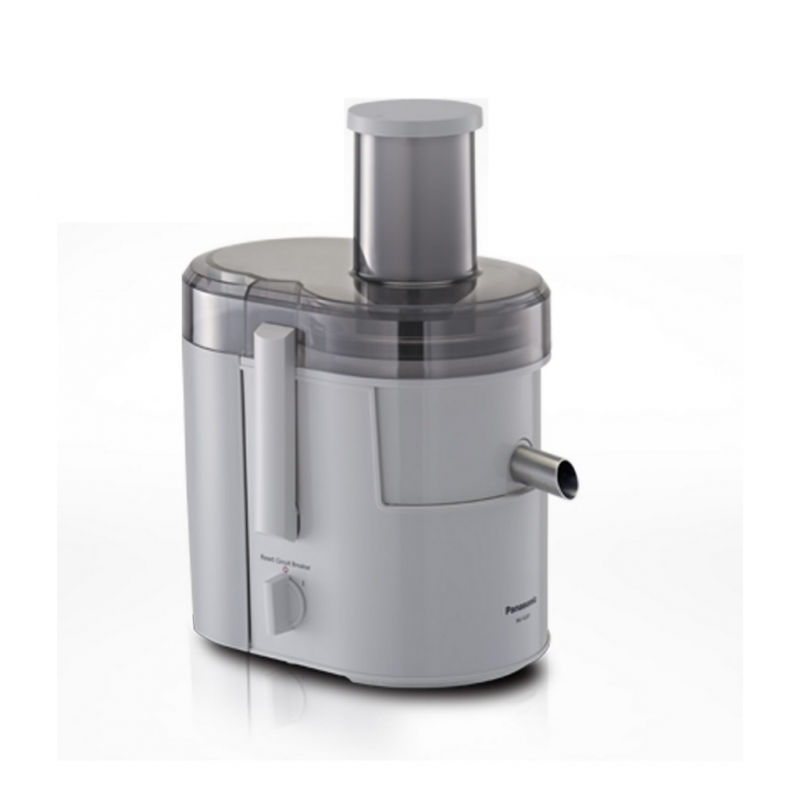  
Product Features
Precise and durable Full-Metal spinner
Large Feeding Tube – 75 mm
Container Capacity: 2 L
120° Swivel Spout for easy-pouring
Drip Stop by simply lifting the spout
Thorough extraction by Low-Angle Cutter
Fine Filter Mesh – separates juice from the pulp
keyboard_arrow_right keyboard_arrow_down Description
Precise and Durable Full-Metal Spinner: The full metal spinner's S-Shaped Cutter firmly holds fruit in place as it is being juiced, and centrifugal force works to eject the pulp. It squeezes more efficiently because the fruit doesn't spin. Thorough extraction is achieved by the Low-Angle Cutter, and the fine Filter Mesh separates the juice from the so you always get a refreshing, thirst-quenching drink.
Large Feeding Tube: The feeding tube has a 75mm diameter, large enough to fit whole fruits and veggies, so there's no need to cut them into small pieces. The large capacity, 2L pulp container lets you make a lot of juice , one after the other.
120° Swivel Spout: When several people are sitting around the table, they can simply move the spout towards themselves for easy pouring.
Drip Stop: Simply lift the spout after using it to stop any juice from dripping.
Compare with similar products:
This item

Panasonic MJ-SJ01WTN Juicer

Regular price

Rs 4,699

-Rs 3,400

Price

Rs 1,299

Regular price

Rs 1,299

-Rs 900

Price

Rs 399

Regular price

Rs 1,299

-Rs 400

Price

Rs 899

Regular price

Rs 1,490

-Rs 891

Price

Rs 599

Regular price

Rs 1,099

-Rs 800

Price

Rs 299

Capacity (L):
2
--
--
--
0.6
0.5
Colour:
Grey
Silver
--
--
--
White