Sony DSX-A410BT Car Media Receiver
Reference: 12010192 mail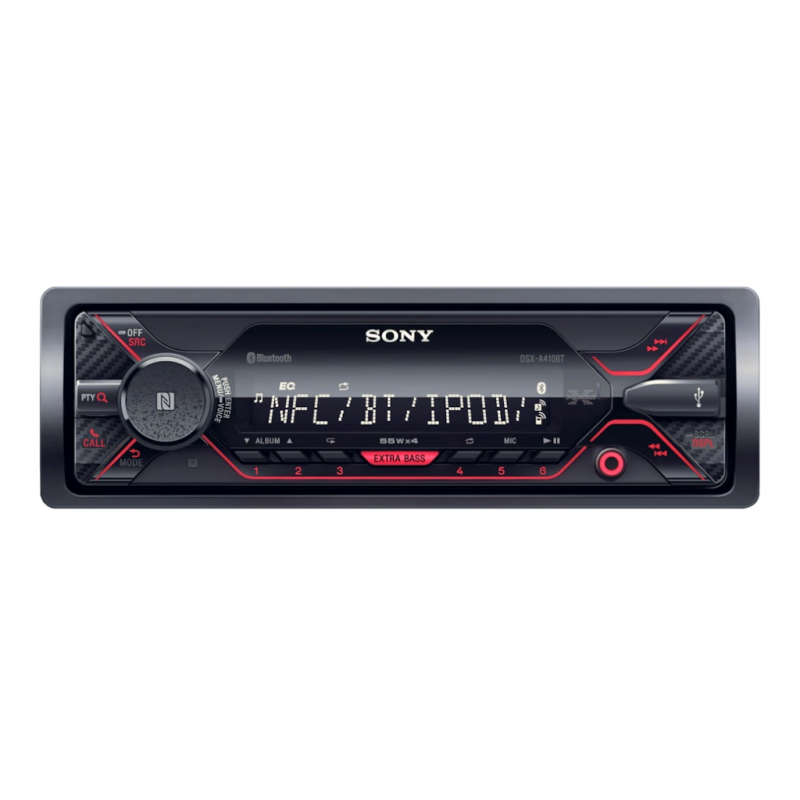  
Product Features
LCD (with Acryl) Display
Dual Bluetooth
USB Port: Front
Aux Input: Front
10-Band Equalizer
Built-in Amplifier: 55Wx4
1 Year Warranty
verified_user Supashield warranty
keyboard_arrow_right keyboard_arrow_down Description
Stay connected on the road: Keep in touch on the road with Dual Bluetooth® connectivity from the DSX-A410BT. Wirelessly connect your first phone to play music, get
Connect two smartphones with Dual Bluetooth®: Pair your first phone using DSX-A410BT for full access to navigation, music playback, and communication features. A second phone can be connected simultaneously for making and receiving hands-free calls.
Control by talking: Enjoy helpful smartphone features without taking your eyes off the road. Voice control lets you manage music, get real-time directions, and communicate with contacts – all via simple spoken commands.
Bring great sound to every journey: Wherever you're going, enjoy clear and natural sound driven by powerful amplification and customisable audio settings.
10-band digital equaliser customises your sound: With 10 adjustable EQ sliders, you can easily fine-tune the sound to your personal tastes. The new karaoke mode quietens vocal tracks for those times when you just can't help singing along.
USB input lets you play music from iPhone or iPod: With the handy USB input, you can easily play music from your iOS device. Just plug in with a USB cable (not supplied), and you can control basic playback functions while seeing track information on the display. 
Other Features:
Sound-synchronised illumination pulses to the music
iPhone / iPod Music Playback
Bluetooth Version 3.0
MP3/WMA/FLAC Playback
Remote Control: No
Weight: 0.7kg
Dimension: W17.8xD11.9xH5 cm
keyboard_arrow_right keyboard_arrow_down Store Availability
Bambous :
On Display + Last 3 in stock
Bel Air :
On Display + Last 2 in stock
Bell Village :
On Display + Last 2 in stock
Chemin Grenier :
On Display + Last 2 in stock
Flacq :
On Display + Last 2 in stock
Goodlands :
On Display + Last 3 in stock
Lallmatie :
On Display + Last 2 in stock
Mahebourg :
On Display + Last 1 in stock
Port Louis :
On Display + Last 4 in stock
Quatre Bornes :
On Display + Last 2 in stock
Riche Terre :
On Display + Last 2 in stock
Rose Hill :
On Display + Last 3 in stock
Saint Pierre :
On Display + Last 2 in stock
Compare with similar products:
This item

Sony DSX-A410BT Car Media...

Regular price

Rs 5,999

-Rs 500

Price

Rs 5,499

Regular price

Rs 7,099

-Rs 500

Price

Rs 6,599

Regular price

Rs 28,999

-Rs 2,000

Price

Rs 26,999

Display Technology:
LCD
LCD
LCD
LCD
LCD
TFT
Power (W):
55 x 4
50 x 4
55 x 4
50 x 4
50 x 4
55 x 4
Bluetooth:
Yes
Yes
Yes
Yes
Yes
Yes
Warranty:
1 year
1 year
1 year
1 year
1 year
1 year
Width (cm):
17.8
--
17.8
--
--
22.9
Depth (cm):
11.9
--
17.6
--
--
13.6
Height (cm):
5
--
5
--
--
25.3
Weight (Kg):
0.7
--
1.2
--
--
2.4
USB Ports:
1
--
1
1
--
1
Aux-In Port:
Yes
Yes
Yes
No
Yes
No
Remote Control:
No
Yes
Yes
No
Yes
Yes