Sony PlayStation 4 Slim 500GB Console
Reference: 20030088 mail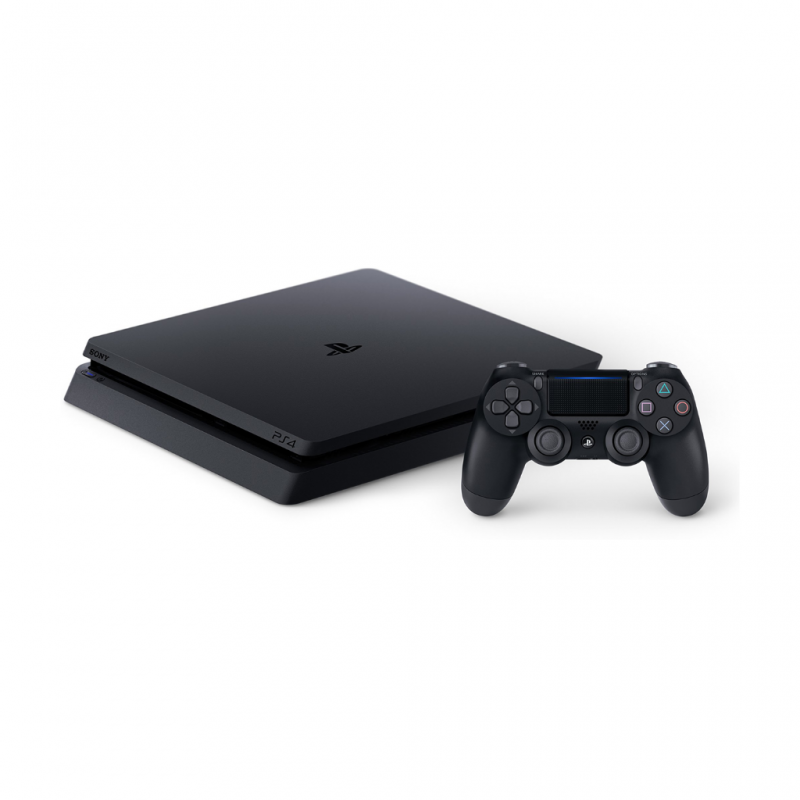  
Product Features
x86-64 AMD "Jaguar" Octa Core 1.6 GHz
1.84 TFLOPS, AMD Radeon™ based graphics engine
Single-chip Custom Processor
8GB GDDR5 RAM + 500GB HDD Internal Storage
Bluetooth®v4.0
Ethernet
1 HDMI Port
2 Super-Speed USB (USB 3.1 Gen1) Ports
1 Year Warranty
keyboard_arrow_right keyboard_arrow_down Description
More ways to play: Store your games, apps, screenshots and videos with up to 1TB storage inside the PS4 console – slimmer and lighter than the original PS4 model and available in Jet Black and more colors.
PlayStation VR games: Live the game in extraordinary new ways with PS4 and PlayStation VR. Simply connect the PS VR headset to your console and immerse yourself in breath-taking virtual reality games, experiences and entertainment.
Incredible control: An iconic design that fits perfectly in your hands, intuitive controls that keep you on top of your game and a vibrant array of colors to suit your style. However you like to play, the DUALSHOCK®4 wireless controller has you covered.
Remote Play: Stream games from your PS4 to any compatible iOS or Android device, PC, Mac, PlayStation Vita over your home WiFi network, and enjoy freedom from your TV.
Share Play: Let a friend play your games or join in multiplayer matches, even if they don't own the game.
Stream your gameplay: Broadcast your adventures live to the world via Twitch and  YouTube.
Share in seconds: Share screenshots and videos of your greatest moments on Twitter and YouTube.
Connect with friends: Create parties, chat to friends or join gaming communities to find new players.
Stay with you on PS4™ and PS5™: Discover some of the games, features and experiences that unite PS4 and PS5 consoles, and how the power of PlayStation®5 lets you push the boundaries of play.
PS4 for the whole family: With versatile parental controls designed to give you peace of mind, plus a whole universe of games suitable for everyone, PS4 is suitable for the entire family.
Parental controls on PS4: Parental controls on PS4 let you tailor what each individual child family member can access on their console, and how long they can play each day.
A parent's guide to PlayStation: Learn more about what we do to keep young players as safe as possible – and what you can do to make sure they're playing in ways that are suitable for their age group.
Compare with similar products:
This item

Sony PlayStation 4 Slim...

Processor:
Octa Core
--
--
--
--
--
RAM:
8GB
--
--
--
--
--
Internal Storage:
500GB HDD
64GB
64GB
32GB
32GB
32GB
Power (W):
165
--
--
--
--
--
Bluetooth:
Yes
Yes
Yes
Yes
Yes
Yes
Gaming:
Next-Gen Console
--
--
--
--
--
Warranty:
1 year
1 year
1 year
1 year
1 year
1 year
Width (cm):
28.8
--
--
--
--
--
Depth (cm):
26.5
--
--
--
--
--
Height (cm):
3.9
--
--
--
--
--
Weight (Kg):
2.1
--
--
--
--
--
Ethernet:
Yes
Yes
Yes
Yes
Yes
Yes
HDMI Ports:
1
1
1
1
1
1
USB Ports:
2
--
--
--
--
--
Colour:
Black
White
Black
Black
Grey
Blue