Stoneline WX 7907 28cm SQ Griddle "O"
Reference: 11010164 mail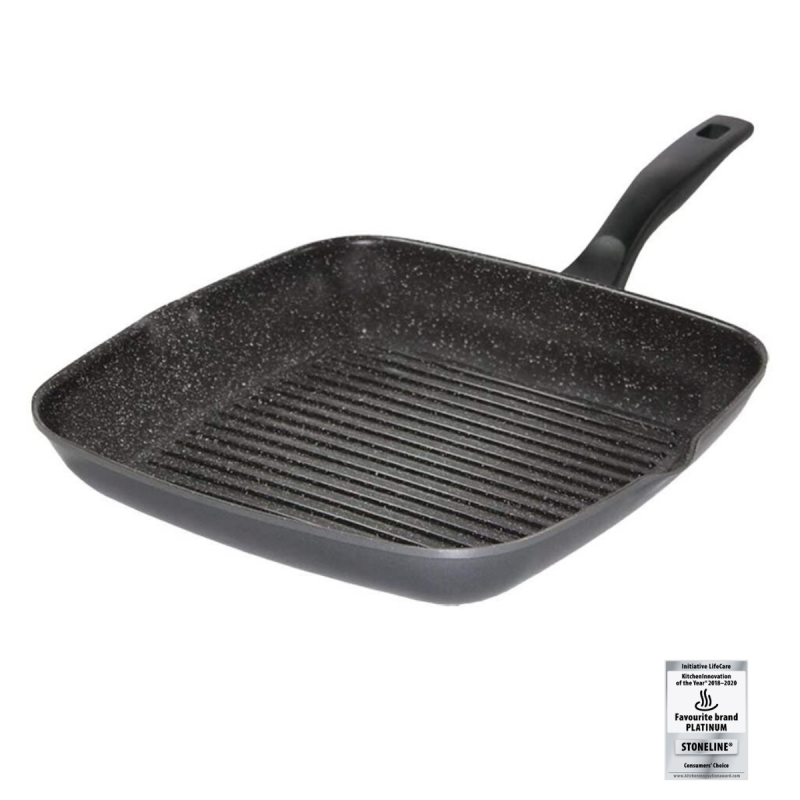  
Product Features
Scratch-proof Non-stick STONELINE® Coating
Material: Die-cast Aluminium
Size: 28 cm
Thickness: 4.5mm
Suitable For All Cookers, Even Induction
keyboard_arrow_right keyboard_arrow_down Description
This 28 x 28 cm grill pan has a perfect size. For bigger or smaller meals - nothing burns and nothing sticks.
Handy detail: drain meat juice or excess oil easily via the two spouts.
Thanks to the STONELINE® non-stick coating you can prepare your meals with or without fat and oil and remove them easily from the cookware.
Whether you are cooking on glass ceramics, induction, electric or gas, in cookware with the original STONELINE® coating, no stubborn residues stick and the easy manual cleaning saves you time and effort.
The ribbed surface on the pan bottom gives your food the characteristic grill marks.
Excess fat and cooking gravy rest at the bottom of the grooves, while the food is elevated.
Whether steaks, vegetable strips, fish fillets, or prawns, with this grilling pan it tastes magnificently of summer.
Compare with similar products:
This item

Stoneline WX 7907 28cm SQ...

Regular price

Rs 4,250

-Rs 850

Price

Rs 3,400

Regular price

Rs 3,199

-Rs 300

Price

Rs 2,899

Regular price

Rs 3,399

-Rs 600

Price

Rs 2,799

Regular price

Rs 2,799

-Rs 200

Price

Rs 2,599

Regular price

Rs 2,799

-Rs 200

Price

Rs 2,599

Material Type:
Die-Cast Aluminium
Cast Iron
Aluminium
--
Cast Iron
Cast Iron
Warranty:
NIL
NIL
NIL
1 year
NIL
NIL
Length(cm):
28
--
--
--
--
--
Width (cm):
28
--
--
--
--
--
Non Stick:
Yes
Yes
Yes
Yes
Yes
Yes
Colour:
Grey
Black
Blue
Black
Black
Black