Xiaomi 36249 G11 Vacuum Cleaner
Reference: 11030209 mail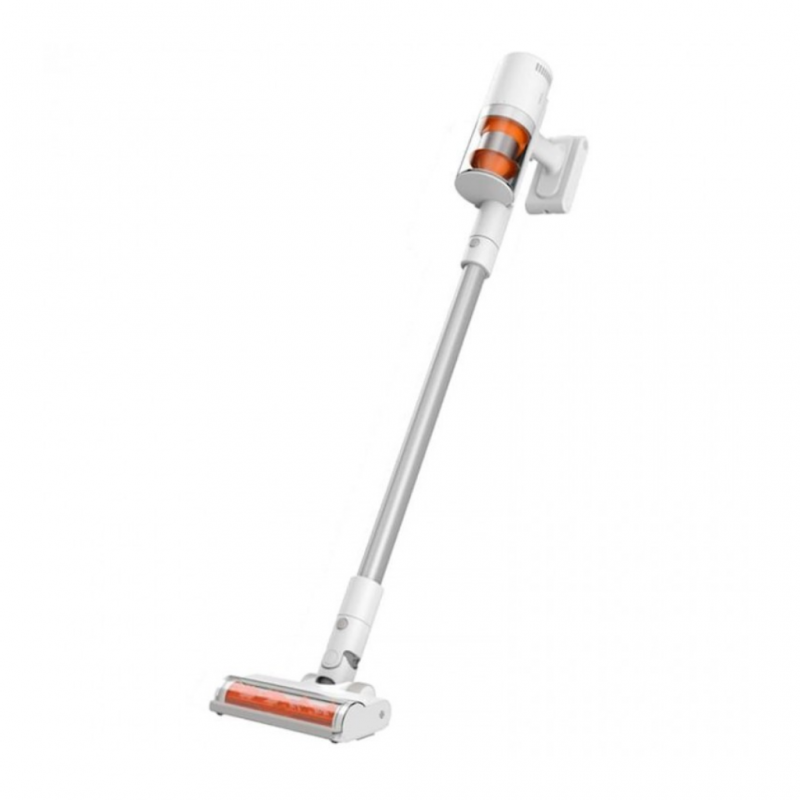  
Product Features
Battery Power: 22.2V
Dust Capacity: 0.3L
185 AW Powerful Suction
Tangle-free Technology
Run Time: 60 mins
Weight: 1.6kg
1 Year Warranty
keyboard_arrow_right keyboard_arrow_down Description
For Ultra-Efficient Cleaning: The Xiaomi G11 Vacuum Cleaner is equipped with the latest high-performance brushless DC motor with faster speed and longer life. The vacuum cleaner can suck up to 185 watts of air, which is 23% higher than the previous generation of vacuum cleaners, providing even more effective cleaning.
To clean any type of floor easily: Thanks to its newly upgraded brush head, the vacuum cleaner can clean various types of floors in the home more effectively and easily, including wood floors and carpets.
Anti-tangle technology: This rotating brush is equipped with three-section blades that automatically cut through any hair that gets tangled on this brush, but these blades are safe and harmless to floors or carpets.
High Energy Density Li-ion Polymer Battery Cells: Fully upgraded lithium-ion polymer battery cells offer greater safety and more stable performance, and with a long-lasting battery you'll forget about charging frequently.
Infrared particle sensor: The vacuum cleaner in automatic mode can intelligently adjust its suction strength by the infrared particle sensor. The higher the dust level the vacuum cleaner uses, the more suction power it uses, and vice versa, which enhances cleaning efficiency and extends battery life.
Continuous cleaning without interruption: The vacuum cleaner comes with a large capacity battery, which allows for quick battery replacement. When the battery runs out, the replaceable battery can help double your cleaning time instantly without having to stop cleaning.
Multi-cone and double layer system: Thanks to the multi-cone and double-layer design, the vacuum cleaner makes full use of the interior space of the filter assembly to separate invisible particles from the air and send them to the dust chamber. This will effectively prevent clogging of the filter and will enable the vacuum cleaner to maintain suction power, and will help extend the life of the motor.
99.5% filter efficiency: To purify the air and lead a healthier life, the environment in which we live is not only full of dust, but also a number of allergens that negatively affect our health. The vacuum cleaner features a multi-layer filtration that enables it to filter out various types of allergens as small as 0.3 microns with a success rate of 99.5%. Thus, the G11 vacuum cleaner will give you a healthier life.
Interactive LCD screen: For real-time operation status, an interactive LCD display provides information, such as three suction modes, battery power level and fault alerts. It also helps you keep track of the vacuum cleaner's condition at all times, to make it easier to use.
Easy emptying dust chamber: To keep hands clean, press the dust release button to eject and empty the dust chamber. The dust chamber can be held with only one hand, which is a very easy way to prevent hands from getting dirty.
Compare with similar products:
This item

Xiaomi 36249 G11 Vacuum...

Regular price

Rs 19,119

-Rs 1,000

Price

Rs 18,119

Regular price

Rs 5,349

-Rs 200

Price

Rs 5,149

Regular price

Rs 8,999

-Rs 500

Price

Rs 8,499

Warranty:
1 year
1 year
1 year
2 years
1 year
Weight (Kg):
1.6
2.1
1.2
--
2.14
Capacity (L):
0.3
0.3
--
0.3
0.6
Cordless:
Yes
--
Yes
Yes
Yes
Battery Power (V: Volts):
22.2
--
21.6
24
--
Run time (Hrs):
1
0.3
0.75
0.6
0.4
Colour:
White
White
White
Red
Grey