Chanson PLB302 Eden 2YW Water Ionizer "O"
Reference: 11050217 mail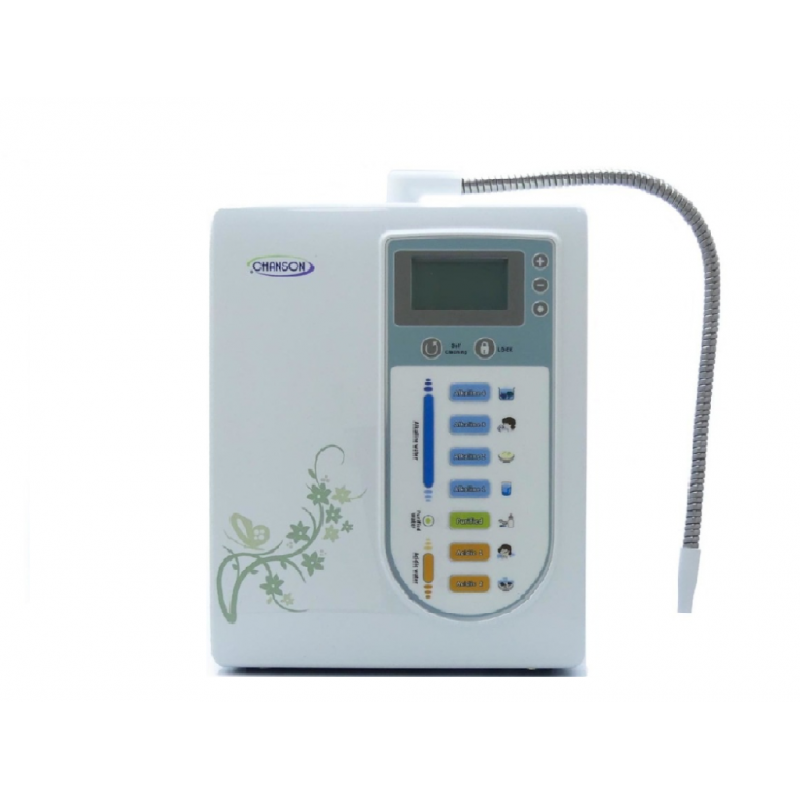  
Product Features
Power: 5-150W
Temperature: 5-40°C
Water Pressure: 5 - 95 PSI
Input: 230V/50HZ
PH: 3.0 – 10.5
Weight: 5kg
Dimension: W22.5xD12xH33 cm
2 Years Warranty (Excluding Consumables)
keyboard_arrow_right keyboard_arrow_down Description
The Eden Ionizer from Chanson is not only economical and compact but designed richly add to your kitchen style and stylistic theme while serving you the best alkaline water machine one could ever have. It comes with the micro-adjustment facility to set the water as per your need and is the best suitable for your kitchen counter top.
The micro-adjustment feature makes it appropriate to use around the globe with no geographical constraint or without confining the user to comply with a particular type of water source. In this way, whatever is the geographic location or whatever is the type of water source, one can always use PL-B302 without any apprehension of not receiving proper alkaline water. Presently, whatever is the situation, one needs to set the adjustment on the machine and avail the best alkaline ionized water.
Five (3) Electroplate Titanium Plates: The Chanson Eden is comprised of 3 plates-Japanese electroplate developed by 'nano; plating technology, the same technology Chanson's higher range alkaline water ionizers are developed with.
Chemical Free Filter: The Chanson Eden Ionizer, are entirely chemical-free, making the ionizer fit to use anywhere without apprehension of the water source. The filters are five-micron silver-impregnated coconut shell carbon block four stage filter that maintain the pH Consistency. Chanson water ionizers adjust the electrolysis amperage automatically to keep alkaline levels consistent.
Easy to change Filters: The filters are easy to change without any expertise or any other skill set. Even any individual can also change.
Filter Life Notification: The Eden comes with filter life notification indicator, which continues updating about the condition of the filter to permit the timely arrangement of the new filter to replace the earlier one. The LCD screen continues showing the remaining filter life, reminding the user to change it when necessary to keep continuing receiving proper water.
Self-Cleaning Function: Depending upon the mineral content of the ionizer, the cleaning cycles are set automatically in the ionizers always to keep them ready to deliver the required water whenever the need arises. The machine automatically flushes on its own to remain ready to cater to the next demand. It allows the standing water in the chamber to be immediately flushed out on its own as not to let it alter the output during the next delivery.
Auto Shut-off Function: The Chanson Ionizer comes with an automatic shut-off function to switch off the machine after every 20 minutes of not in use. While reverting to function, it will restore all the earlier set commands to it.
Compare with similar products:
This item

Chanson PLB302 Eden 2YW...

Regular price

Rs 1,599

-Rs 300

Price

Rs 1,299

Regular price

Rs 999

-Rs 700

Price

Rs 299

Regular price

Rs 1,399

-Rs 100

Price

Rs 1,299

Power (W):
150
150
--
--
--
--
Warranty:
2 years
2 years
NIL
--
--
NIL
Width (cm):
22.5
22.5
--
--
--
26
Depth (cm):
12
12
--
--
--
10
Height (cm):
33
33
--
--
--
27.4
Weight (Kg):
5
5.5
--
--
--
0.5
Colour:
White
Silver
White
--
White
Clear