Chanson PLB502 Violet 2YW Water Ionizer "O"
Reference: 11050069 mail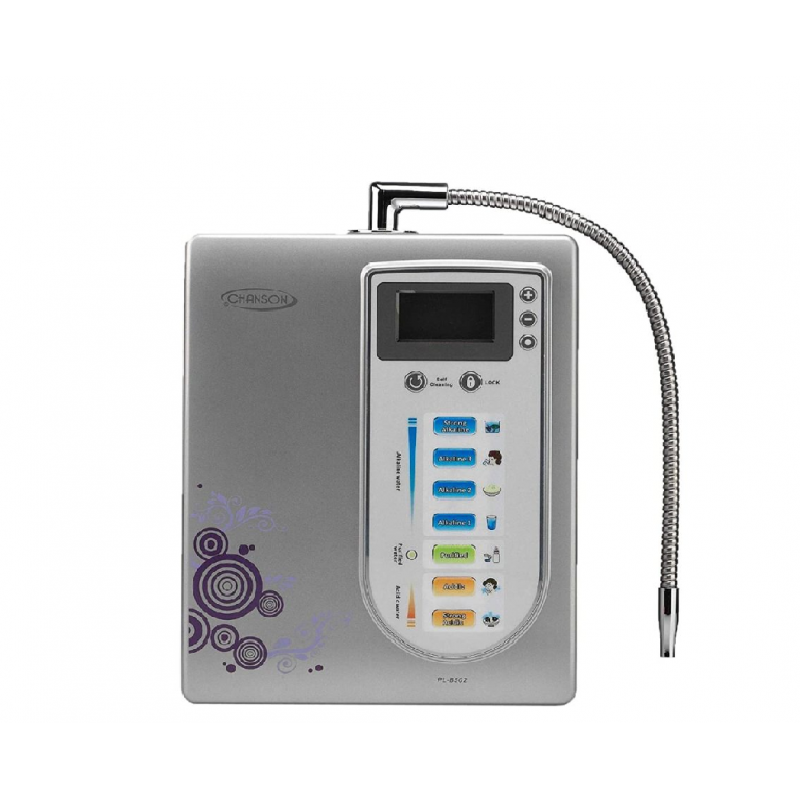  
Product Features
Power: 5-150W
Temperature:5-40°C
Water Pressure: 5 - 95 PSI
Input: 230V/50HZ
Weight: 5.5kg
Dimension: W22.5xD12xH33 cm
2 Years Warranty (Excluding Consumables) 
keyboard_arrow_right keyboard_arrow_down Description
The Chanson Violet ionizer is the most economical model in Chanson's stable of World-Class Alkaline water ionizers, with all the benefits of alkaline water without any bells and whistles.
Five (5) Electrode Titanium Plates: The 5 Electrode Plates of the Violet 5-plate comes with the superconductivity and durability to provide you with the best quality of alkaline water along with an extended of the Ionizer. These plates are grade titanium plates featuring Nano Fitting Technology(Made in Japan)
pH Consistency: Chanson water ionizers adjust the electrolysis amperage automatically to keep alkaline levels consistent. 
Remaining Filter Life Notification: The remaining water filter life will be auto-adjusted according to your water quality. The LCD screen displays the remaining filter life, reminding you to change your filter when necessary.
Self-Clean Function: The Chanson ionizer will automatically set its cleaning cycles based on the mineral content of your water. Cleaning always occurs after you turn the machine off, allowing the machine to perform maintenance without ever interrupting your water usage. The Chanson Violet will automatically go into a flushing cycle each time you turn on your ionizer.
Auto Shut-off Function: The Ionizer has an auto shut off at 20 minutes to prevent water flooding in case left on by accident. The machine can be turned right back with detection of water flow.
Low power consumption: The Violet Ioniser consumes minimum power in evaluation to the alternative ionizers available inside the market without affecting its quality or performance on any scale, thus provides the user with the minimum operating cost. It is a unique technology of Chanson to have the lowest power consumption and maximum plate life.
Wide Range of Alkaline, 3.0 – 10.5 pH: The subsequent high-quality characteristic of the Violet Ionizer is to produce a wide range of alkaline ionized water at both the extreme ranges. Violet delivers both the highest and the lowest pH levels of water, depending upon the requirement. Whether you require water of pH 3.0 or 10.5, it delivers both. And, the best is there is no alteration in the output because of flow rate of the incoming water. Whether the incoming water is at a lower or higher flow, the output of chanson alkaline water ionizers continually remains the same.
Compare with similar products:
This item

Chanson PLB502 Violet 2YW...

Power (W):
150
150
150
--
--
--
Warranty:
2 years
2 years
2 years
1 year
1 year
NIL
Width (cm):
22.5
24.7
22.5
36
--
--
Depth (cm):
12
14
12
11.4
--
--
Height (cm):
33
30.5
33
31
--
--
Weight (Kg):
5.5
4.5
5
3.25
--
--
Colour:
Silver
Black
White
White
White
White